A
nd the winner is......(drumroll please...)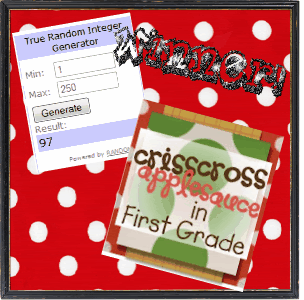 Congratulations! You just won a trip to Disney World!!!
Just kidding. But you did won a $15.00 gift card to Target, some fabulous clip art from The 3A.M Teacher, and awesome units from The Teacher's Cauldron AND The Picture Book Teacher's Edition. I'll be in touch with you shortly.
On a personal note, I
wanted to take a minute and say thank you.
Thank you to all my new blogging friends who have come on over to visit my blog this week to sign up for my first giveaway.
Thank you to every person who has taken the time to leave me a nice note since I started blogging. As a student teacher it means more than you would know. It gives me confidence, makes me laugh when I'm over on this side of the PC crying, and makes me see that I too can be a successful teacher someday soon. Maybe I can even pay it forward.
Thank you for the generosity. I haven't blogged about this yet, but you wouldn't believe the astounding amount of just plain giving there is in the blogging world. If I need help with my future TPT store, no problem. Clip art? You got it! Help me with my first giveaway? Sure! Come follow my new blog when I have maybe two posts? Of course! Others send me little freebie units just because I love Dr. Seuss(JEN!) You all have families, drama, and classrooms of your own yet you have taken me under your wing when I need it. Its unreal. You don't even know me:)
When I first started to blog, I was really embarrassed and insecure about people finding out and judging me. Now, I feel proud that I blog about education. I tell everyone that will listen how many followers I have, crafts I have posted(even if they look horrible), or what I read today. I talk about some of you like old friends. So.....
THANK YOU, THANK YOU, THANK YOU.
If there is ever any way little ol' me can help you out.. just ask. Have a great week everyone:)